We've expanded our Innovation Grants during the new winter/spring cycle to now include immersive Innovation Labs® and our Professional Development, in addition to our K-12 Innovation curriculum. We're providing up to $1 million, but act soon because grants may be limited. For more information, click the button below.
"This workshop was probably the best I've been to in years. It was hands-on, engaging, and I left with multiple resources that I can and will actually use in my classroom." – Bethany Bostic, Rappahannock  County Elementary School

Is Your Inventionland® Curriculum Program Up for Renewal?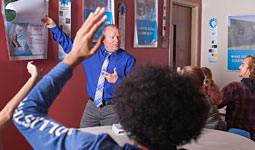 Simply email Nathan Field, our Executive Director so you continue to have full access to this rewarding and powerful program for your school.
Download Your Complimentary Innovation Labs® Starter Kit
Invention Contests are in Full Swing - Check Them Out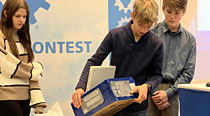 We assisted in school level invention contests for Ligonier Valley High School, Grove City Middle School, Highlands Middle School, and Burgettstown High School.
The winning groups from Grove City Middle School classroom invented the "Expert Folder". The Expert Folder was created by 8th grade students: Jacob, Karen, and Logan. The Expert Folder is an invention that helps make folding clothes simpler and faster. Additionally, the the "EZ Carry" was also a winner. The EZ Carry was created by 8th grade students: Brady, Reece, and Joseph. The EZ Carry is a new type of wearable bag that can hold personal items and also helps carry heavy grocery bags. The grocery bags are able to be hooked onto the wearable bag so people don't have to carry heavy grocery bags in their hands.
Inventionland® Education Awarded Project of Distinction for Berkshire Local Schools
Inventionland® Education Featured In School Business Affairs Magazine


Have an Idea? We'd Love to Hear from You.
Some of our very best ideas come from educators like you. If you have something you'd like to share, or an idea on how we can make our curriculum, projects or professional learning even better, please drop us a line.

"Students are on a mission, they are explorers… they are building their confidence. To me, we want to build up kids for life, not tests." – George M. Davison, Founder and CEO of Inventionland®