Our Innovation Curriculum is the Perfect K-12 Cross-discipline STEAM Toolbox
Educators now have the tools to feel confident about preparing the innovators and inventors or the future.
Find Out About Our Innovation Curriculum from Educators
A fun, hands-on approach to inspire creativity, teamwork and a growth mindset
Students often see problems in need of better solutions. There's no better way to encourage entrepreneurship and innovation — and to build courage and resilience — than to give students a safe place to explore, fail forward and succeed.
Transform Classrooms and Underutilized Spaces into Immersive Learning Environments.
Our award-winning Innovation Labs® Design Services team at Inventionland Education works with you to re-imagine and bring to life imaginative and stimulating spaces. It's perfect for immersive learning and inspiring creativity.
Receive Your No-cost
Innovation Labs® Starter Kit
Your kit includes:
Portfolio Catalog of Lab Design Options
Lab Design Video Links
Before and After Examples
Immersive Learning Spaces White Paper
Design, Construction and Install Steps
Your starter Kit also includes a complimentary consultation with one of our project managers.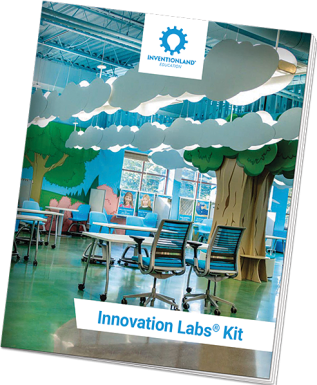 See How the Leechburg Area School District Transformed K-12 STEAM Learning
If a picture is worth a thousand words, this actual video of the Inventionland Curriculum and Innovation Labs® is worth much more. Hear from District Leadership, Principals, and Teachers on how Inventionland Education partnered with them to create world-class courseware and spaces.
Just as we do for students, we offer fun, hands-on experiences to inspire creativity, teamwork and a growth mindset in teachers.
Teachers using our curriculum may also see problems in need of better solutions. Our professional development courses and workshops offer teachers a safe space to explore Inventionland's proven 9-Step Method turning their own ideas into innovations and inventions, so they can in turn encourage their own students to do the same.