We're currently working to add new Innovation Labs® in schools across America. Our award-winning spaces are unlike anything you've seen. Age-appropriate and timeless, we can help you reimagine what STEM labs, library renovations or maker spaces can be. Check out our Before and After flip book or download your complimentary Starter Kit today.
5th and 6th Grade Students from Seneca Valley Rock Their Invention Contest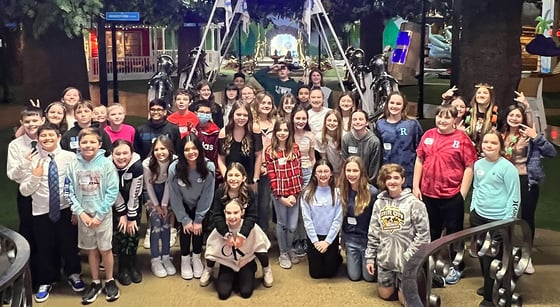 Inventionland recently hosted the top five teams from the Seneca Valley School District for their second round competition. They originally hosted a contest at their school with 14 participating classrooms totaling 292 students, and has 42 winning teams/classrooms. The top 5 teams competed at Inventionland HQ.
The first place team's project was called TEPM which was a cup created for hot beverages that had a color coded thermometer on the outside of the cup to let people know how hot their beverage is and if it's safe to drink.
The second place team's project was called Fab Tabs. They created a tablet that you can mix with water to create toothpaste that will have positive effects on the environment. They even had created a sample for the judges to test out.
The third place team's project was called CMG Company. They created a heat protectant glove for people who work with their hands and also need to keep their hands safe from burns.

Inventionland Education offers a complete range of Professional Development that help you with maximize STEM and project-based learning, and fully utilize maker spaces. Choose from immersive, 3-day sessions, to all-day, half-day, and 2-hour workshops.
Innovation Grants Available - Apply Today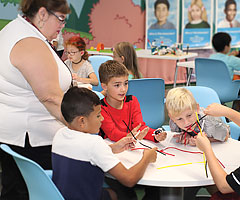 Inventionland Education has just opened up the Spring Cycle for our Innovation Grants. This year, we're providing up to $1 million in grants that can be used to offset costs for Innovation Labs®, PD or our K12 Innovation curriculum. It's easy to apply. Download our grant application today.
Pilot our K12 Curriculum Next School Year and Save
Our K12 Courseware reinforces STEM and project-based learning, and right now, we're offering 33% savings for Fall pilots (now only $5,000 per site license). Our curriculum is student-driven, as teams work in small groups to invent their own product, culminating in an invention contest.

This Spring, Summer or Fall, consider a tour to Inventionland in Pittsburgh. We've been named one of the most creative workplaces in the world, with 15 uniquely-themed environments, like a treehouse, pirate ship, race track, and so much more. Inventionland is one of the world's largest invention factories.
If your would like to more information or to book a tour, contact Victoria.


Have an Idea? We'd Love to Hear from You.
Some of our very best ideas come from educators like you. If you have something you'd like to share, or an idea on how we can make our curriculum, projects or professional learning even better, please drop us a line.

"Students are on a mission, they are explorers… they are building their confidence. To me, we want to build up kids for life, not tests." – George M. Davison, Founder and CEO of Inventionland